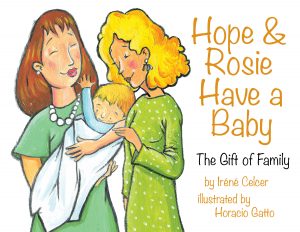 Two moms tell the wonderful story of how they brought a new baby into their family through sperm donation.
Follow an inquisitive little boy who learns of his two moms' quest to have children, and the joy they experience while creating their family through sperm donation and pregnancy. Told in a language a child can understand, read the tale of how both moms welcome their child into a new family. Come and celebrate the unique gift parents can receive on their way to becoming a family.
—Full Color with Illustrations
—In English
—Ages 3–7
This book is part of a larger collection of children's picture books that embodies the hope families have to overcome challenges that sometimes stand in the way of building a family, and their will to take the necessary steps to do so. These books highlight several distinctive ways to build a family, and provide a delightfully new and refreshing way to tell children about their unique beginnings.
Parents can share with their children the loving story of their conception, the goodness of all the people that were helpful along the way, and the joyous celebration of their arrival. It accents the caring way that they were planned, how much they were wanted, and the kindness of all involved in their creation, regardless of which reproductive option was ultimately realized.
See the Hope & Will Book Collection
Praise
"Irene Celcer does a phenomenal job through her level of thoughtfulness, love and understanding. I truly was left with a warmhearted feeling of joy. This book offers an insightful look into non-traditional family structures with a tremendous amount of care to the understanding of the child. It also affords families an opportunity to begin the conversation with their child in an intelligent and meaningful way."
—ALVIN HUNTSPON
Community Advocate for LGBTQ+ Youth
"Irene Celcer's books take on the task of helping parents from different kinds of families explain to their children where they come from and what makes them a family. She does this with clarity and sensitivity as she helps families celebrate themselves."
—LINDA WEISKOFF, LCSW, BCD
Director, Heartwork Counseling Center
"Irene Celcer's books speak to the changing and diverse picture of families today. Her books resonate with families, offering a heartwarming look at different ways individuals become a family. The stories are told with warmth, and express the sincere desire and effort in fulfilling dreams of becoming a parent. These books are important for parents, doctors, schools, therapists, and libraries to have on their bookshelves."
—SHUBHA SWAMY, LPC
Founder, Novo Psychotherapy
From the Author
Third party reproductive assistance is one of the many ways to build a family, although this pathway might not ordinarily be chosen by same sex couples. However, to those working in the field of infertility and collaborative reproduction, it is apparent that children born through such assistance are among the most longed for and awaited. The grand efforts that individuals make to create families are acknowledged in this collection of books in an appropriate way for little ears to hear and little minds to learn about.
I would like to see mothers and their children use this book with pleasure and gusto. It is my ardent hope that it will allow them to feel the pride and joy they deserve to feel. Good luck and congratulations on becoming a family!
Details
Paperback | $19.95 | 28 Pages | 11″ x 8.5″ | English | June 1, 2019 | LCCN 2018018857 | ISBN 9781938313226
eBook | $9.95 | 0000 Kilobytes | English | Forthcoming | LCCN 2018018857 | ISBN 9781938313233
Published by Graphite Press