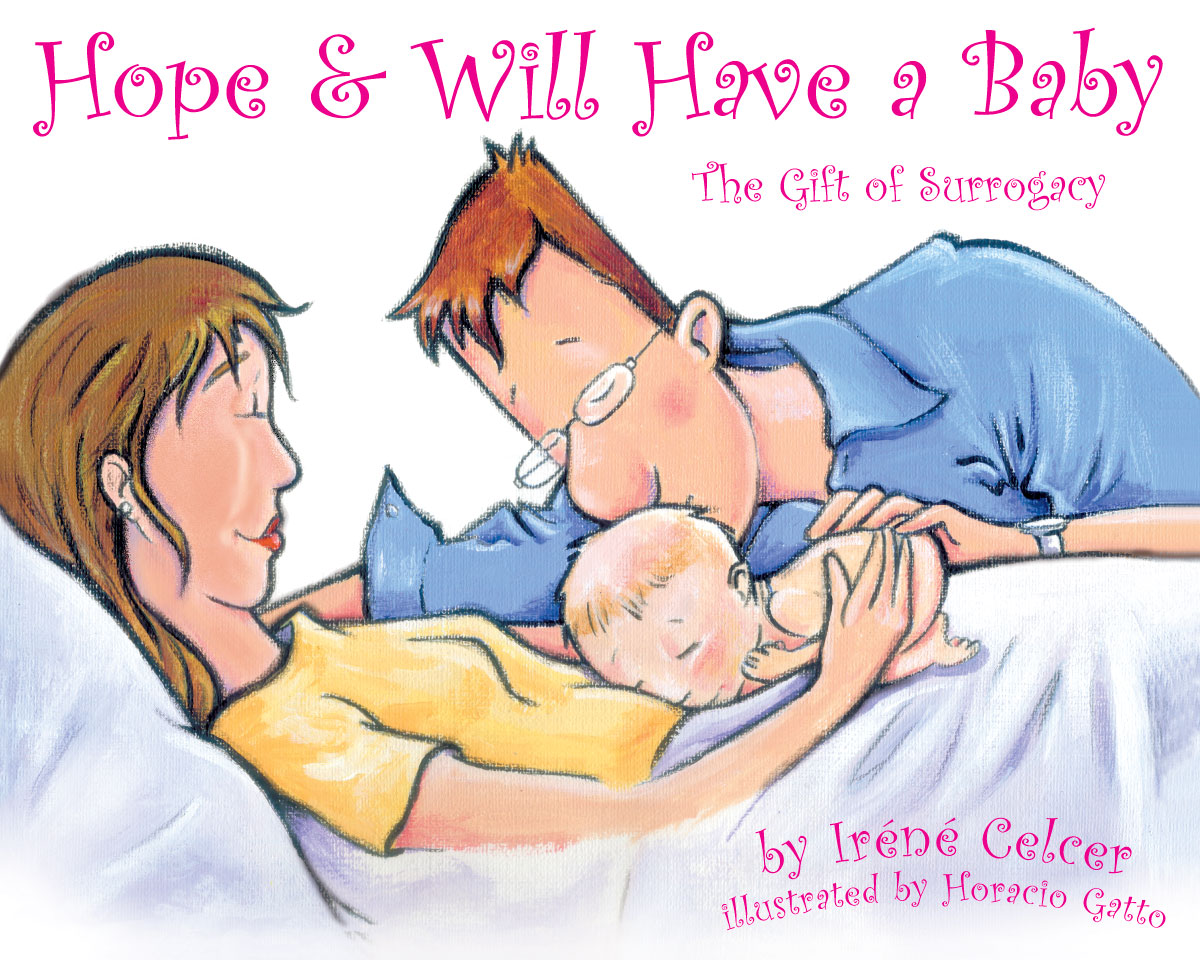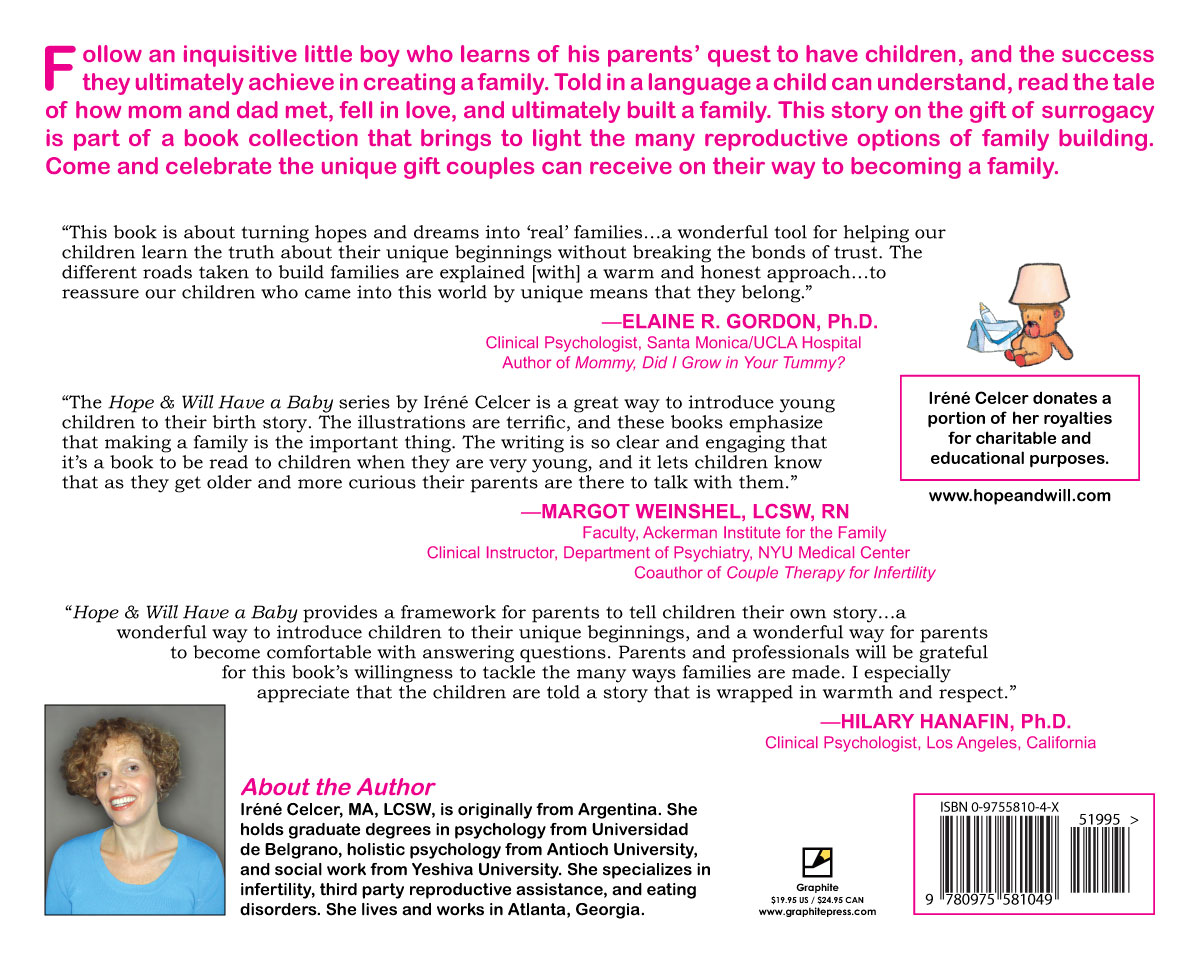 Follow an inquisitive little boy who learns of his parents' quest to have children, and the success they ultimately achieve in creating a family. Told in a language a child can understand, read the tale of how mom and dad met, fell in love, and ultimately built a family.
This story on the gift of surrogacy is part of a book collection that brings to light the many reproductive options of family building. Come and celebrate the unique gift couples can receive on their way to becoming a family.
—Full Color with Illustrations
—In English
—Ages 3–7
About the Hope & Will Collection
Ordinarily, most people don't think twice about how to build a family. Having biological children is presumed to be the way it is going to happen—until it doesn't. It is at this stage that parents begin the journey to explore additional options, and this journey is not always easy.
For those parents who choose third party reproductive assistance, these books provide a delightfully new and refreshing way to tell children about their unique beginnings. Written by mental health and reproductive specialist Irene Celcer, and boldly portrayed by internationally recognized illustrator Horacio Gatto, each stand-alone volume recounts the same story from a different perspective, highlighting four distinct pathways to conception via assisted reproductive technology (ART): egg donation, embryo donation, sperm donation, and surrogacy. Rounding out the collection are books on adoption and traditional conception. Each book provides a great vehicle for parents to tell children how they came into this world.
Available separately, books in the Hope & Will collection include The Gift of Egg Donation, The Gift of Embryo Donation, The Gift of Sperm Donation, The Gift of Surrogacy, The Gift of Adoption, and The Gift.
See the Hope & Will Book Collection
Praise
"This book is about turning hopes and dreams into 'real' families…a wonderful tool for helping our children learn the truth about their unique beginnings without breaking the bonds of trust. The different roads taken to build families are explained [with] a warm and honest approach…to reassure our children who came into this world by unique means that they belong."
—ELAINE R. GORDON, Ph.D.
Clinical Psychologist, Santa Monica/UCLA Hospital
Author of Mommy, Did I Grow in Your Tummy?
"The Hope & Will Have a Baby series by Irene Celcer is a great way to introduce young children to their birth story. The illustrations are terrific, and these books emphasize that making a family is the important thing. The writing is so clear and engaging that it's a book to be read to children when they are very young, and it lets children know that as they get older and more curious their parents are there to talk with them."
—MARGOT WEINSHEL, LCSW, RN
Faculty, Ackerman Institute for the Family
Clinical Instructor, Department of Psychiatry, NYU Medical Center
Coauthor of Couple Therapy for Infertility
"Hope & Will Have a Baby provides a framework for parents to tell children their own story…a wonderful way to introduce children to their unique beginnings, and a wonderful way for parents to become comfortable with answering questions. Parents and professionals will be grateful for this book's willingness to tackle the many ways families are made. I especially appreciate that the children are told a story that is wrapped in warmth and respect."
—HILARY HANAFIN, Ph.D.
Clinical Psychologist, Los Angeles, California
Details
Paperback | $19.95 | 32 Pages | 10″ x 8″ | English | March 1, 2007 | LCCN 2006011046 | ISBN 9780975581049
eBook | $9.95 | 2983 Kilobytes | English | May 22, 2014 | LCCN 2006011046 | ISBN 9781938313141
Published by Graphite Press